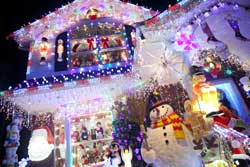 ChristmasLightFinder.com was created in 2005 to give those who love to see Christmas lights a way to easily find light displays in their area. This unique database gives decorators – both home and commercial – a way to direct people to their displays and lets those who get into the spirit of Christmas by driving around looking at displays the ability to search for displays by zip code or by country. Over the years, we gradually added other holidays into the database so that now you can find displays for Halloween, Easter and ever the 4th of July. Inclusion in our database is free and the site is supported by commission-based ads.
Our database is consistently the largest and most widely used light and display finder available. We engage in extensive marketing to make sure everyone knows about us and we continually work to keep the database updated with the most current information.
ChristmasLightFinder.com is owned by a Christmas light enthusiast who also is co-owner of Christmas Expo, an annual consumer event for Christmas decorating enthusiasts.
While the US is the leader in Christmas light displays, many other countries around the world share the same joy in lighting up their homes and businesses during the holiday season. Because of this, the database is worldwide.
Link to Us
Link to us! Add our banners or graphics to your website, blog or email and share the word about ChristmasLightFinder.